Exploring the intersections between fatherhood and golf, and the lessons you learn from each
Fatherhood: A Memoir
Being a father may be the greatest and scariest experience of many men's lives, but there's no map or manual; every dad must find their way. Matthew Filner tells stories from his first 18 years as a parent to share the lessons he's learned. He also takes us through rounds he's played at iconic golf courses, to show us the many parallels between golf and parenting. The result is an entertaining read, with something for everyone. 
Play It As It Lies: A Journey through Fatherhood and Golf
Regular price
Sale price
$34.99 USD
Unit price
per
Sale
Sold out
Pre-Order. Ships in early Fall.
Share
View full details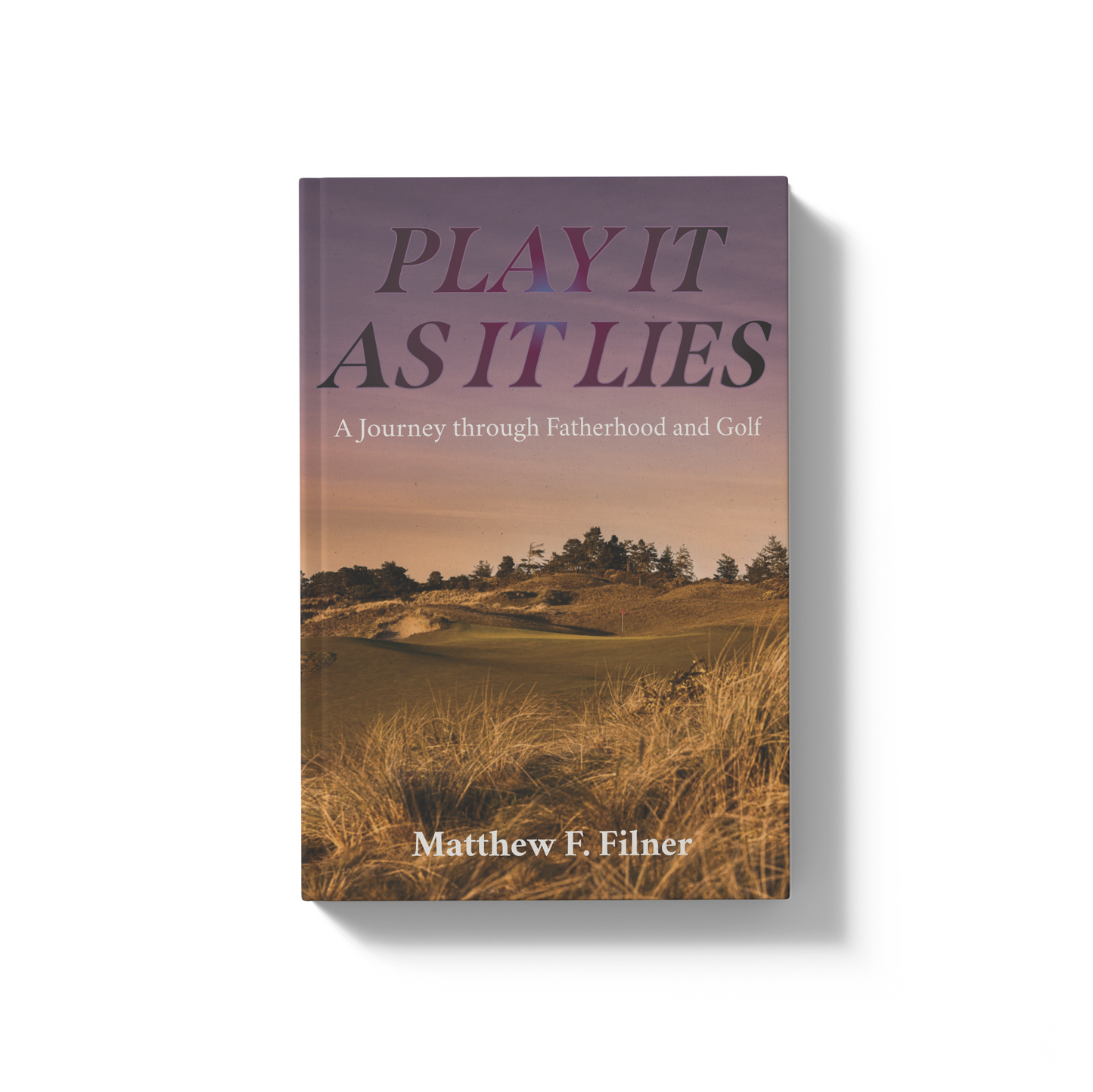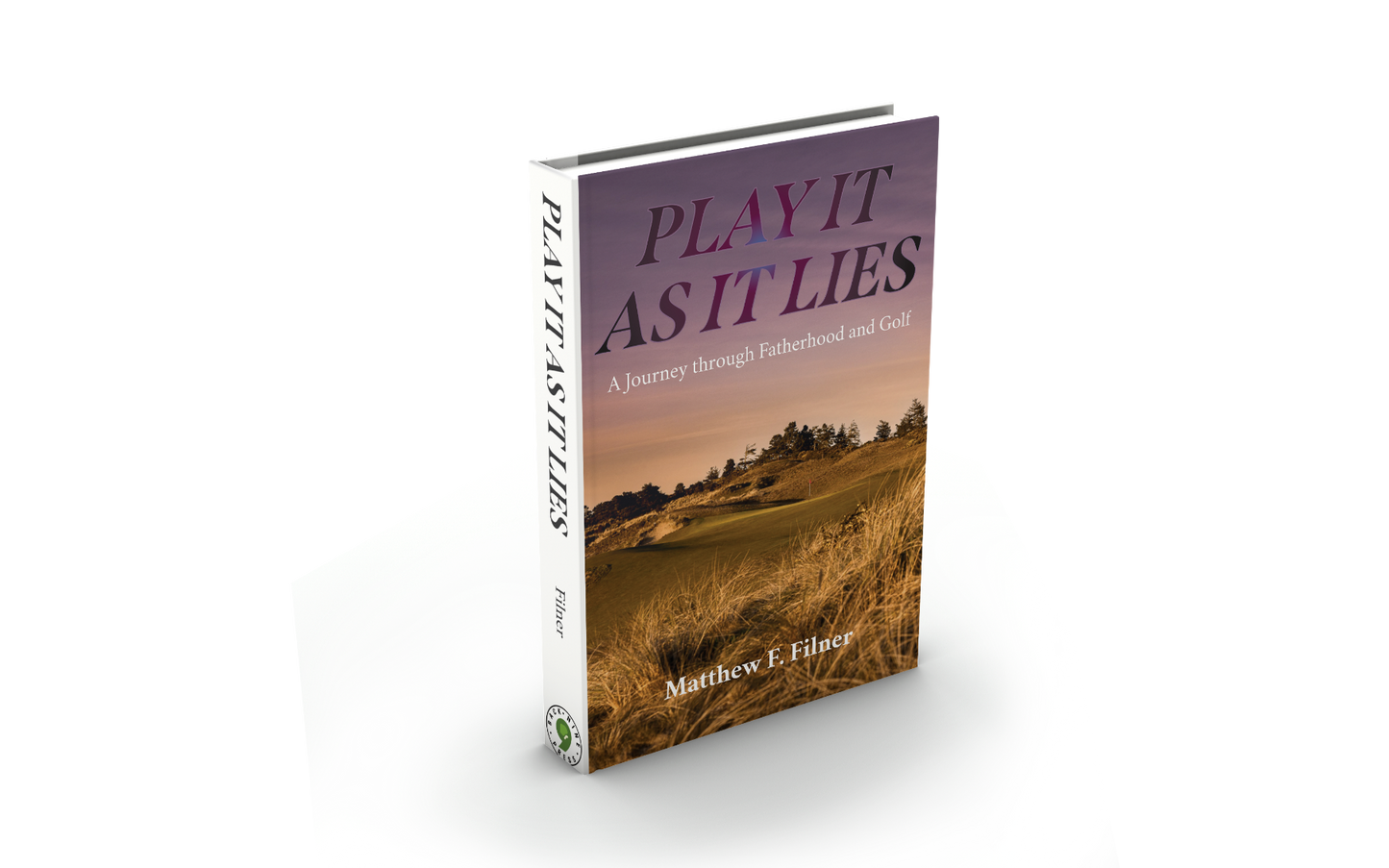 This item is in PRE-ORDER, which means it will ship in early Fall.
Orders will ship out in the order they were received.
Your order today helps to support our work and promotion of the book.
Advanced Praise
"Golf and fatherhood are two of the most challenging and wonderful things a man can undertake—full of wonder and unexpected happiness one moment followed by nagging worry and various stages of quiet terror the next. In both experiences we learn as we go. Someone once said that a good father's joys and fears are private—for he dare not speak of one, and will not speak of the other. In Play It As It Lies, Matthew Filner has done a masterful job of chronicling and revealing the various stages of fatherhood through the prism of the game he dearly loves, as he and wife, Theresa, navigate the ups and downs of everyday life raising their sons Aidan and Elliott. Aside from the yeoman's tour Filner provides of some of America's finest layouts, you may see vivid glimpses of your own struggles and small triumphs in pursuit of both games. In the end, we must play everything in life as it lies—and thereby find both joy and meaning in the process."
—James Dodson,
New York Times-bestselling author of Final Rounds
and Ben Hogan: An American Life
"As a game so often shared between fathers and their children, golf is a game that many of us can't separate from memories of our dads.  Matthew Filner's Play It As It Lies is a moving testament to why those memories are the greatest gifts golf can give us.  Whether you're a father or daughter or son or grandfather, there is a story here to remind you that golf with dad is as good as golf gets."
—Tom Coyne, 
New York Times-bestselling author of A Course Called Scotland,
A Course Called America, and others.
He is senior editor of The Golfers Journal.


"Play It As It Lies is an artfully crafted frolic through the rollercoaster we call parenthood. Golfers will particularly relate to Filner's hunger for a quick emergency nine at the muni, and will be surprised to see some of the places the game takes the author. Golf is used as a canvas to reflect, make connection, and just plain have fun. Parenthood is a journey that gives us the ability to teach and to grow. It's not too dissimilar from golf. As unique as some of Filner's storytelling is, it's a path familiar to many of us. The author leads us down that sacred path beautifully."
—Laz Versalles,
golf writer/producer
"Fatherhood is a journey without a roadmap. In a unique way among sports, golf can provide a framework for life. In Play It As It Lies, Matthew Filner explores his singular path through parenthood and the greatest game of all. Without a map, we can all learn from his experiences as a father and golfer."
—Jim Hartsell,
author of When Revelation Comes and The Secret Home of Golf
"Becoming a parent changes a lot of things, but for us golf sickos, it forever changes the way we play and experience golf. We become teachers instantaneously, hoping that over time the infant turned toddler turned kiddo will get into the game that we care so much about. Matt nails this entire experience perfectly in PlayIt As ItLies as he weaves the forever journey of teacher, instructor, caddie, cart driver, and much more as a golf dad." 
—Shane Bacon,
national sports broadcaster, podcaster, and writer,
author of The Golfer's Zoo

"As a Director of Instruction at Bandon Dunes Golf Resort, I have always told golfers that if they want to play their best, they should aim to have fun. Play It As It Lies explores the challenge and magic of becoming the best parent and skilled golfer that you can be. Parenting and golf have many similarities. In order to be successful, you have to pay attention and try to make every parenting decision and golf shot count. The best strategy is to always try to do your best. Being a parent or a golfer is an acquired skill. It takes time and patience. You have to keep moving in the right direction and try not to be distracted by your success or failures. Play It As It Lies is filled with clues to follow if you want to become a better parent or play your best golf. The secret is to relax, follow the clues, and enjoy the adventure. The journey is more important than the destination."
—Grant Rogers,
Director of Instruction Emeritus, Bandon Dunes Golf Resort
From the Introduction
"One of the foundational rules of golf is Rule 9.1: 'Ball Played as It Lies.'
No matter what happened on its travels from where you last hit it, no matter how many tree branches, or rocks, or divots, or thick stands of fescue, wherever your ball stops, you must play the ball wherever it comes to rest. You may hate the stance, the fact that it's in a divot, the tree branch that impedes your backswing, but no matter, you must play the ball as it lies.
There are no foot wedges or winter rules in golf that allow you to move your ball—it's one of golf's oldest and most basic rules. This rule helps us handle adversity, test our patience, and manage our emotions when good luck turns bad. In golf, as in life, it's how you react and respond. This book is about fatherhood and golf, and how much each has helped me understand the other. It's about what it means as a father and a golfer to truly 'play it as it lies.'"
COURSES VISITED
Bandon Dunes • Bandon Trails • Bethpage (Black) • Blackwolf Run (River) • Blackwolf Run (Meadow Valleys) • The Classic at Madden's • Erin Hills • Mammoth Dunes • Old Macdonald • Pacific Dunes • The Quarry at Giants Ridge • Torrey Pines (North) • Torrey Pines (South) • Sand Valley • Troy Burne • Whistling Straits (Irish) • Whistling Straits (Straits) • The Wilderness at Fortune Bay
About the Author
MATTHEW F. FILNER grew up in Washington, DC and earned degrees from Oberlin College and Indiana University. He is a professor of Political Science at Metropolitan State University. Matt is the former Board President of The First Tee of Minneapolis. He lives in Minneapolis with his wife, with his two sons in college.