How a rural, nine-hole golf course became one of the most important designs of the past 20 years.
The Secret Home of Golf: The Authorized History of King-Collins Golf and the Creation of Sweetens Cove
Regular price
Sale price
$34.99 USD
Unit price
per
Sale
Sold out
Share
View full details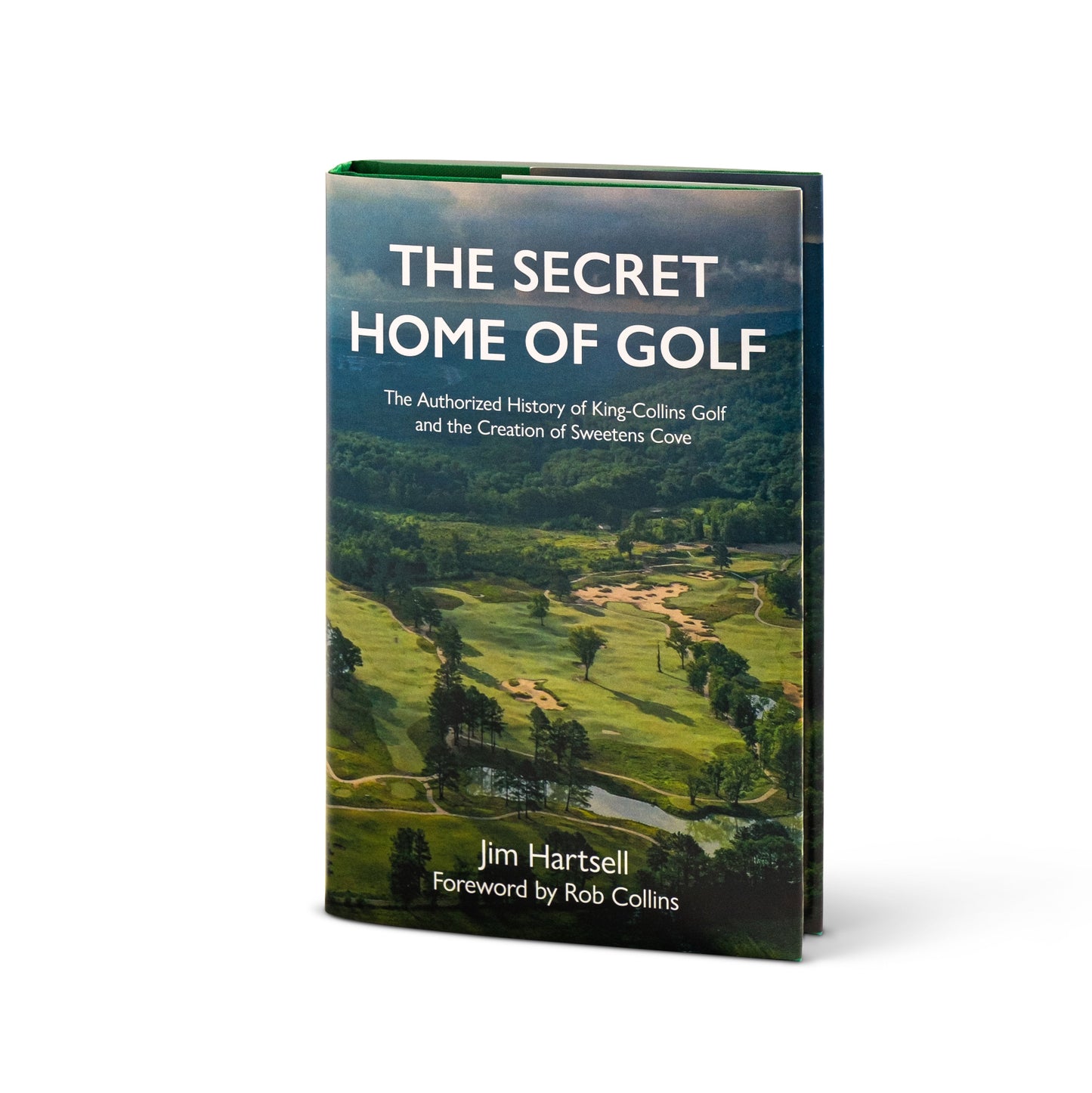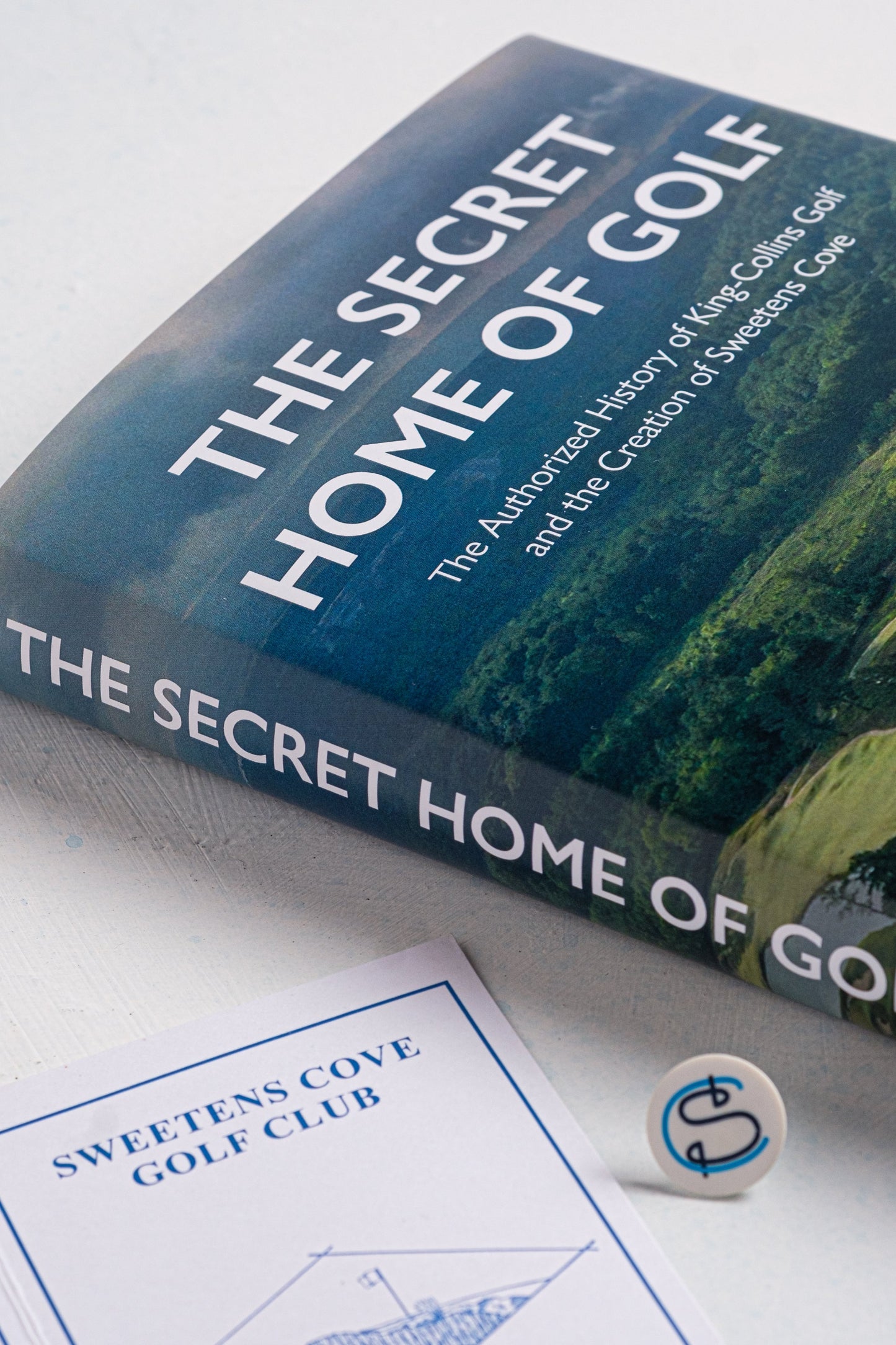 The Secret Home of Golf (ebook)
Regular price
$34.99 USD
Sale price
$19.99 USD
Unit price
per
Sale
Sold out
Share
View full details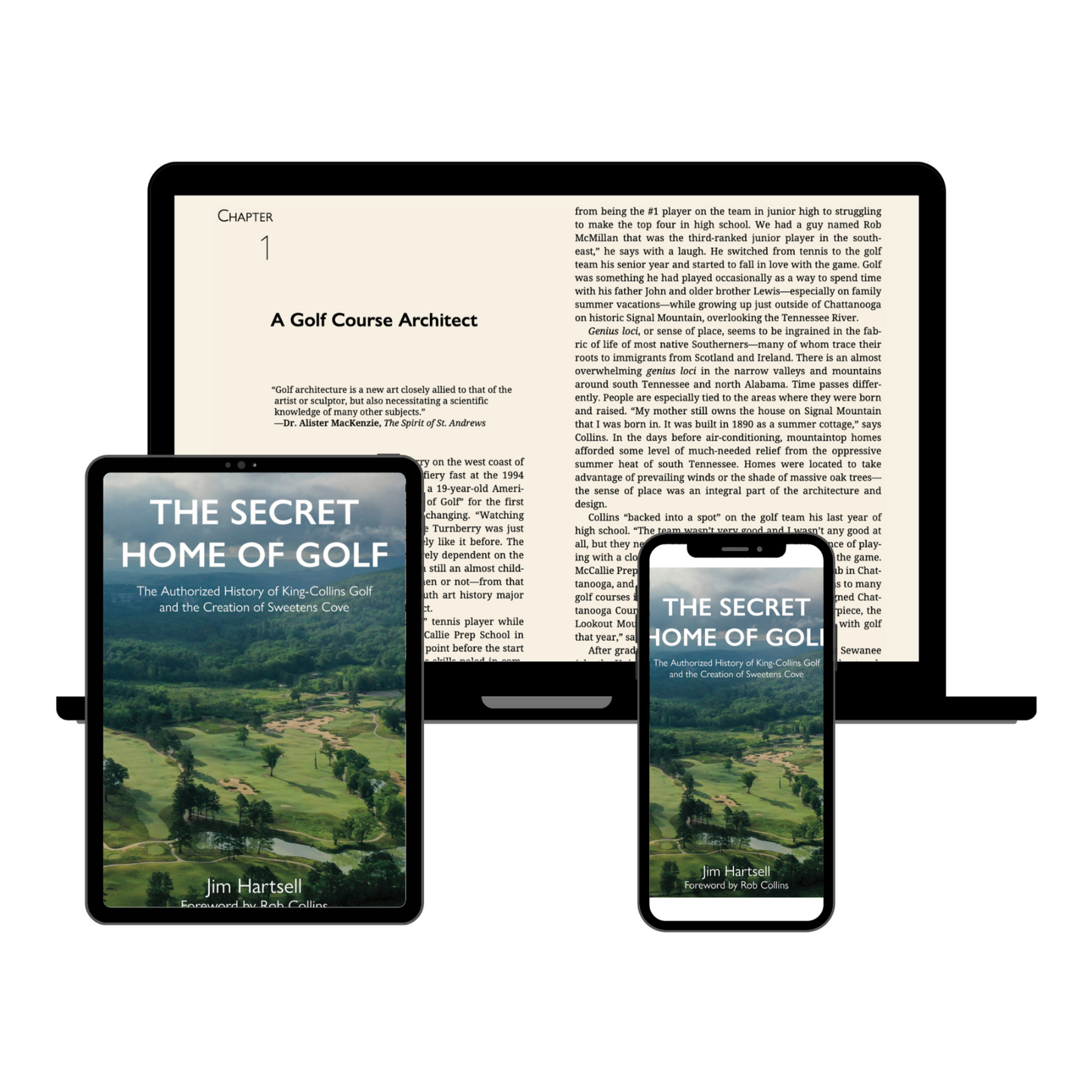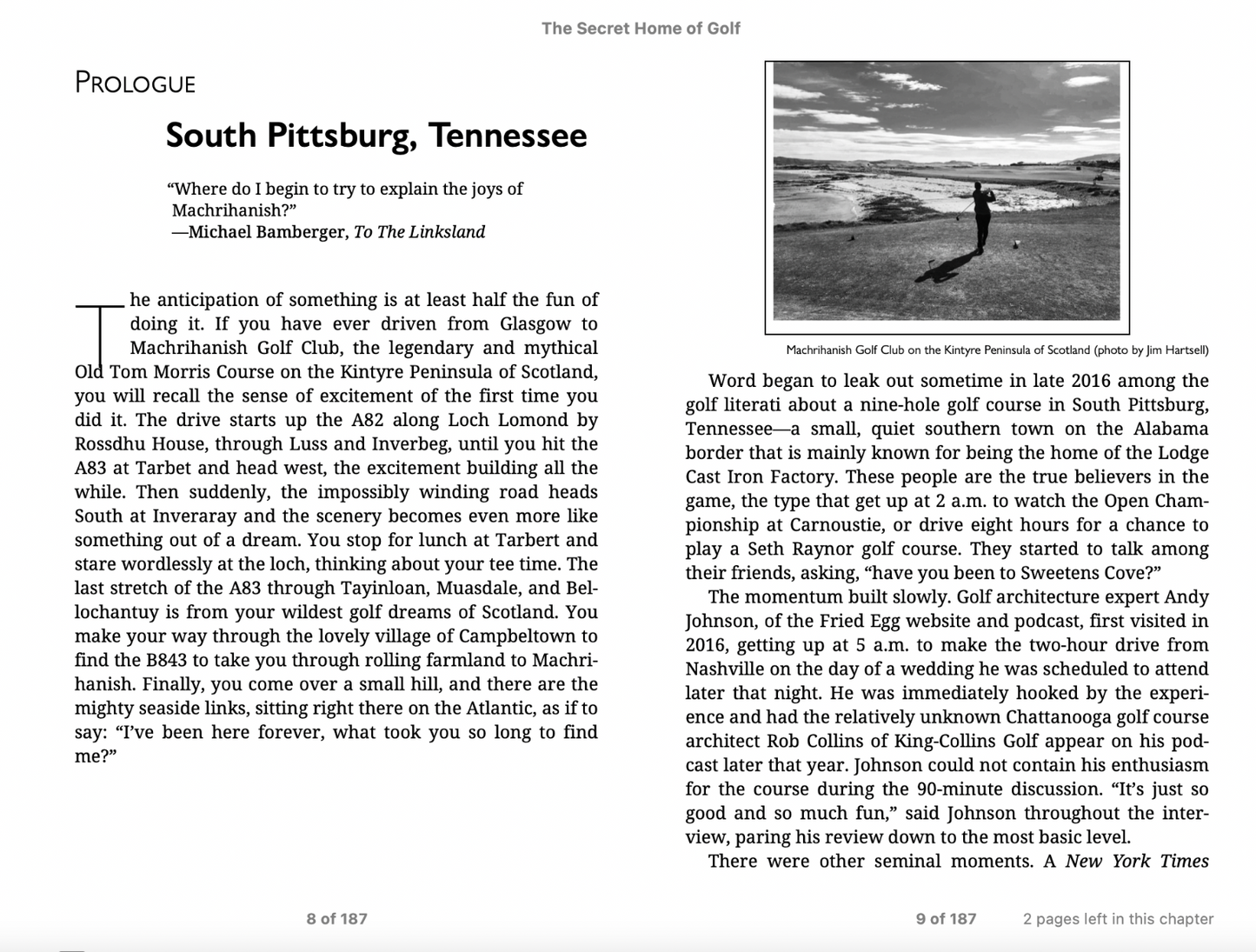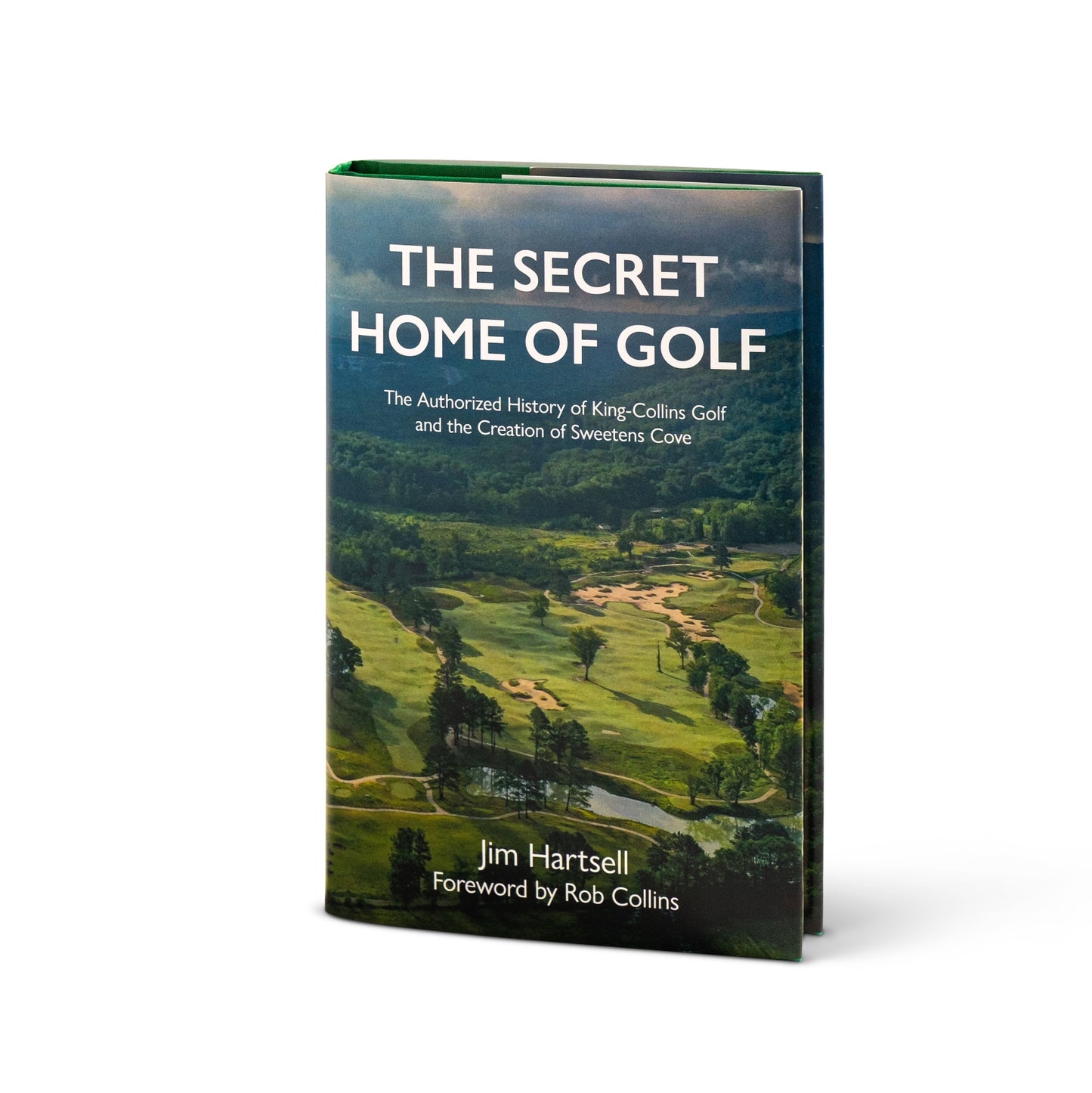 In April 2010, struggling architect Rob Collins of Chattanooga, Tennessee was looking for any way to get back into the golf course design business.  When he learned his alma-mater Sewanee planned to renovate their mountain top nine-hole golf course with renowned architect Gil Hanse, he contacted Sewanee golf coach King Oehmig in hopes of getting involved in the project. This began an unlikely series of events which started the incredible saga of Sweetens Cove Golf Club.
Sequatchie Valley Golf & Country Club was located the small town of South Pittsburg, Tennessee, in the dead flat flood plain of Battle Creek.  A "homemade, country golf course," it was much loved by many golfers in the area: not the least of which was Bob Thomas, successful businessman and founder of nearby Sequatchie Concrete Service. After his home course closed down due to financial difficulties, Thomas bought the 100-acre property in picturesque Sweetens Cove mere days before it was slated to become a horse farm. Under the guidance of his son Reece, what started as a simple renovation project of a run-down golf course turned into something much larger than anyone could have ever imagined.
The Secret Home of Golf is the recounting of how a new, bold nine-hole course in rural Tennessee was created by King-Collins Golf, a then unknown and untested golf course design-build firm, and went on to become listed as one of the top 60 Modern Courses by Golfweek magazine. You will meet a cast of characters that were integral to the ultimate and unlikely survival of the course, which was days away from shutting down on multiple occasions. It is a story of sacrifice and almost unimaginable providence.
The Secret Home of Golf tells the story of a man who refused to give up on his dream, and how his resilience and determination became one of the biggest success stories in modern-day golf.
Praise for The Secret Home of Golf
"There's no hyperbole in the book's title, no matter what folks in the Kingdom of Fife might say. Sweetens Cove has become a hub, a haven, a Mecca we visit to bask in golf's bright new day. And how that happened- this masterfully researched account by Jim Hartsell gives us all the beautiful dirt and shows us how the magic came to South Pittsburg, Tennessee, one shovel at a time."
—Tom Coyne, New York Times bestselling author of A Course Called America and A Course Called Scotland

"You want a pure golf-playing experience? Get thee to Sweetens Cove. You want a pure golf-reading experience? Read Jim Hartsell's book about the place."
—Michael Bamberger, contributor, GOLF Magazine; author of To the Linksland, Men in Green, and The Second Life of Tiger Woods

"This book is essential reading for anyone who has ever spent an afternoon mesmerized by the joys of Sweetens. Jim Hartsell combines the eye of a seasoned observer with the heart of a poet. If reading this doesn't get you amped to make the pilgrimage to experience Sweetens, I can't imagine what will."
—Kevin Van Valkenburg, ESPN senior writer, editorial director of No Laying Up 

"The story of Sweetens Cove is so incredible and such a rollercoaster ride that it needed a special chronicler to do it justice, and the course's run of good luck, which has been consistently remarkable in the last few years, held good when Jim Hartsell signed on to do the job. Hartsell's book tells the amazing tale of how a run-down nine holer that was within a hairsbreadth of closing down was transformed into something good enough to be voted among the top sixty public courses in America, how it almost collapsed again, and again, and again, and how, eventually, everything came good. It is a story with enough twists to be a great movie. But for the moment, it is just a pretty damned good book."
—Adam Lawrence, editor of Golf Course Architecture and author of the forthcoming More Enduring than Brass: the Biography of Harry Colt

"There have been many stories told about Sweetens Cove over the years, Jim's is by far the most definitive. Enjoy his exhaustive research to tell the unlikely and wild story of one of America's most popular golf destinations."
—Andy Johnson, The Fried Egg and The Shotgun Start podcasts

"The story of Sweetens Cove is one of determination, grit, and unlikely salvation; it's also the story of the place and the people who made it. Jim Hartsell is the perfect person to tell the entire story. Jim's devotion for Sweetens, as well as his empathy, attention to detail, and soulfulness are ideal tools to chronicle the unexpected twists that has made South Pittsburg, Tennessee the secret home of golf. From the hardheadedness of Rob Collins, to the legend of Patrick Boyd, to the dozens of others who coalesced to make Sweetens a reality, Jim captures the characters in this story, cutting to the heart of one of the most unique places in American golf."
—Tron Carter, No Laying Up 

"There's an unrivaled authenticity in the fact that Jim Hartsell witnessed firsthand the incredible odds Sweetens Cove overcame simply by existing. In the same way no other architect could have built the golf course, no author other than Hartsell could have properly captured why its story is so important to so many people."
—D.J. Piehowski, No Laying Up

"One cannot truly understand Sweetens Cove without knowledge of the people and events that have shaped its improbable existence. In The Secret Home of Golf, Jim Hartsell—who imbues the spirit of the place like nobody else—details the fascinating history of this small parcel of land in rural Tennessee which has touched so many with its magic and carved out a most important place in the world of golf."
—Phil Landes (Big Randy), No Laying Up

"The story of Sweetens Cove Golf Club is so much more than the 9-hole course of its name. Jim Hartsell's The Secret Home of Golf paints a picture of the blood, sweat, twists, turns, and tears that produced one of the purest and unique golf experiences in the world. I didn't think it was possible to produce a book that matches the lore and authenticity of SCGC, but Hartsell has done it."
—Kevin C. Moore, Professor, University of Georgia; original member of Sweetens Cove

"The creation of Sweetens Cove is one of the great mythologies of the game of golf. It is both ancient and new: a mythology that all of us who love the game will be enthralled to read and become a part of. Hartsell has told the riveting tale here in this new book. Like so many of us who are honored to be a part of the story of Sweetens Cove, this book lets readers become a part of the family and lets them pass the legacy on to the next golf lover you meet."
—Drew Holcomb, Musician, Drew Holcomb & The Neighbors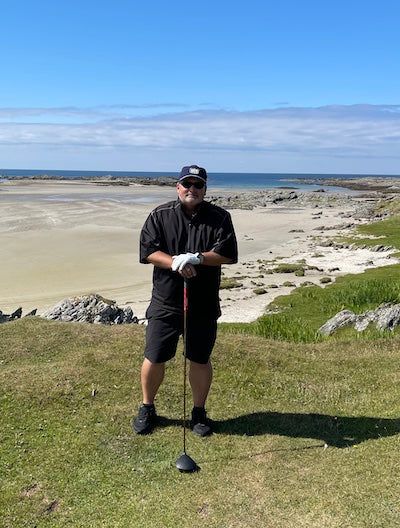 About the Author
Jim Hartsell is a native and lifelong resident of Alabama. A registered architect, he has worked on the design of projects for the University of Alabama, Jacksonville State University, University of Georgia and University of Florida. Scottish golf and golf writing are his true passions, having made many trips to Scotland to study the lesser-known courses. He is the author of The Secret Home of Golf: The Authorized History of King-Collins Golf and the Creation of Sweetens Cove (2021). He has written extensively on golf in Scotland for The Links Diary, NoLayingUp.com and is a contributor to The Golfers Journal and Today's Golfer.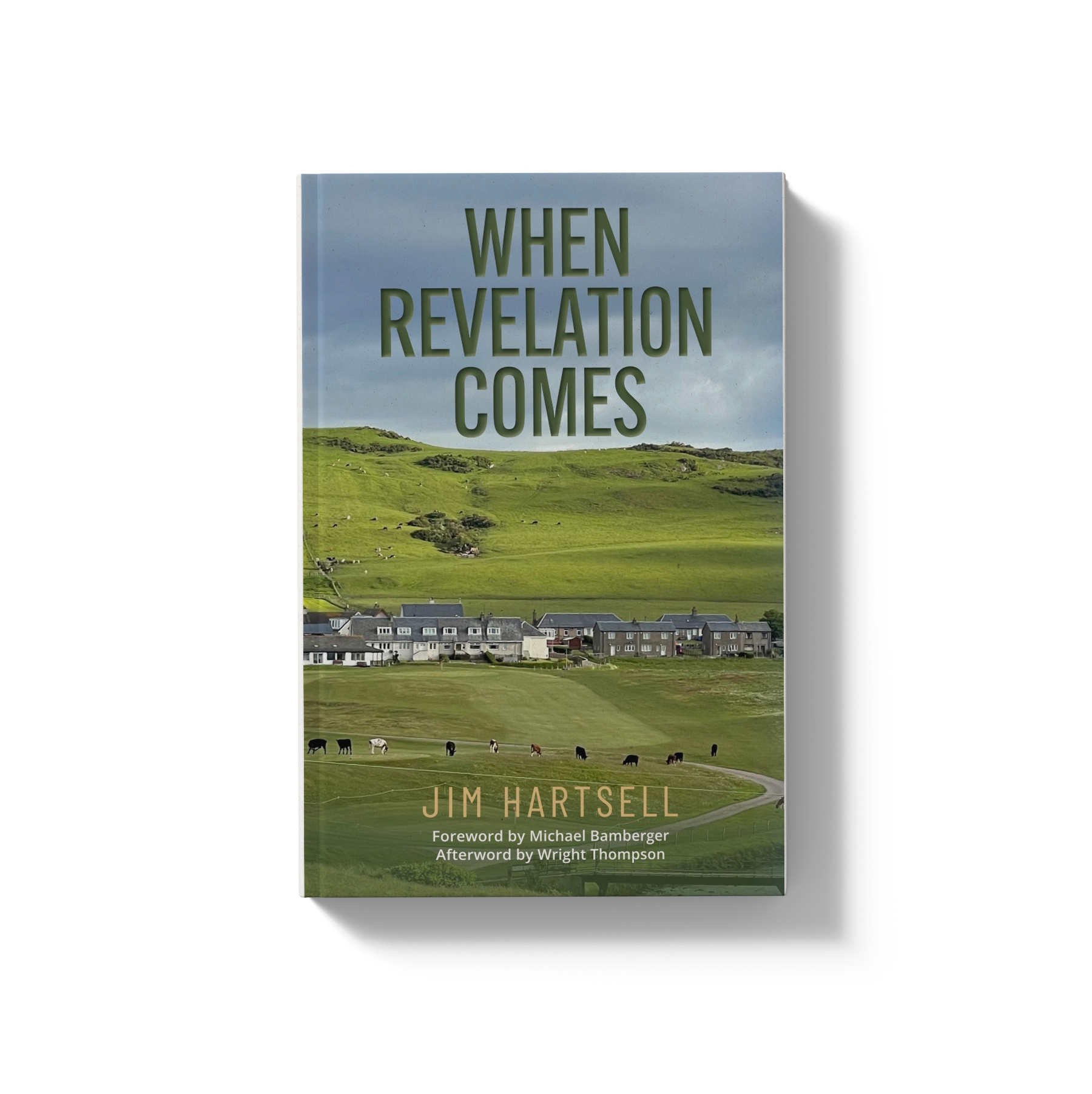 When Revelation Comes: A Journey Across the Sacred Links of Scotland
Regular price
Sale price
$34.99 USD
Unit price
per
Sale
Sold out
Share
View full details